Online giving is NOW available

​Bible Study

Noon Day Bible Study
​&​
​Wednesday Bible Study
​
Tuesday, Noonday Bible Study
December 6, 2016
Our Hymn for this week will be
"I need Thee Every Hour"

Wednesday Evening Bible Study
December 7, 2016 7:00 pm.
The study Focus will be on Prayer

Start Your Day
Scripture - "The steadfast love of the Lord never ceases;
his mercies never come to an end;
they are new every morning; great is your faithfulness"
Lam 3:22-23 (ESV)

Talk Back - "God loves me and His love and mercy never end.
He created new mercy for me this morning;
it is a brand new day and I have a brand new start.


​Lectionary Scriptures for the week:
Old Testament: Psalm 146:5-10 & Isaiah 35:1-10
New Testament: St. Luke 1:46-55 & James 5:7-10

Friendly Reminders:

Advent Walk around the perimeter of the church each Sunday at 10:45 a.m. Our prayer as we walk on the Sundays in Advent in celebration of the birth of Jesus Christ is that God will fulfill our expectations and deliver us from the powers and powers of evil as we await the coming of Christ.

Both Services, Christmas and New Years will be abbreviated.
Christmas Day Morning Worship will begin at 9:00 a.m.
​New Years Day Morning Worship will begin at 10:00 a.m.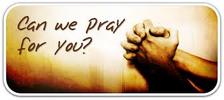 MorningChapel CME Church Prayer line is always open. Please remember to pray for our members ​on our "Healing and Deliverance List" and others whom God has placed on your hearts.

Dedicated prayer times are as following
​ The Pastor in Prayer: Every Tuesday 6:00 a.m. - 6:30 a.m.
Intercessory Prayer led by Prayer Coordinator, Bro Anthony Dangerfield: Every Thursday 6:00 a.m. - 6:30 a.m.
Call in number 817-916-8754
---
---
903 East 3rd Street | Fort Worth, TX 76102 | 817-332-4842 |
info@morningchapel.com
Mailing address | P.O. BOX 141 | Fort Worth, TX 76101